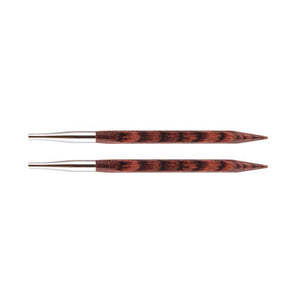 Looking for other products similar to this?
---
Product Information
Elevate the experience and flexibility of your knitting with these precision KnitPro Cubics Interchangeable Knitting Needle Tips.

These distinctively shaped square polished wood needle tips are engineered to produce uniform stitches and offer an ergonomic and comfortable grip optimising knitting efficiency by reducing strain and fatigue on your hands particularly if you have arthritis or during long sessions of hand work.

KnitPro Cubics Tips come in pairs and measure 13cm long. Available at Knitnstitch in 4mm, 4.5mm, 5mm, 5.5mm, 6mm, 7mm and 8mm sizes, they join easily with KnitPro's range of interchangeable cables to give you plenty of knitting options, whether you're tackling a substantial sweater with slim sleeves, a hat or intricate lacework. Interchangeable knitting needles save you time and money. How versatile and enjoyable is that!

Sadly now discontinued. We are sourcing a suitable substitute.