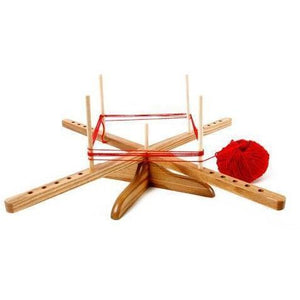 Looking for other products similar to this?
---
Product Information
Another lovely and useful tool from ChiaoGoo to get those skeins and hanks into a ball and onto your needles or hooks.   Quick and easy assembly.
This Amish-influenced, wooden table-top swift has non-skid pads to keep it from moving while you're winding your ball, either by hand or with a hand ball winder. No clamping needed.
Four adjustable pegs can be easily moved to accommodate a skein or hank of yarn up to 155cm. 
Need replacement pegs?  Click here...