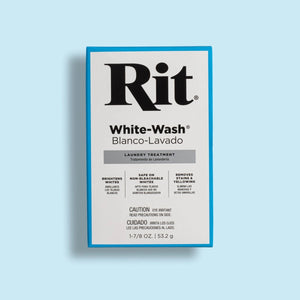 Looking for other products similar to this?
---
Product Information
Rit White-Wash powder is a laundry dyeing aid to help keep your clothes and fabrics looking good longer.
Are you looking for something to revive your dingy whites? Even those whites that are delicate and non-bleachable, like lingerie and silk? Our White-Wash is your solution, a chlorine-free bleach and whitener combined that is specifically formulated to brighten dingy white fabrics, plus remove any yellowing and discoloration. It will even attack stains, like grass, grease and lipstick. Simply use White-Wash with your detergent to bring that fresh off-the-rack pop back to your favorite whites.
Works best on Cotton, Linen, Silk, Wool, Rayon, Ramie, Nylon, Viscose, Modal, Tulle, Hemp.

53.2 gram net weight powder.

Looking for instructions on how to use White-Wash? You're in luck! You can find everything you need to get going here.