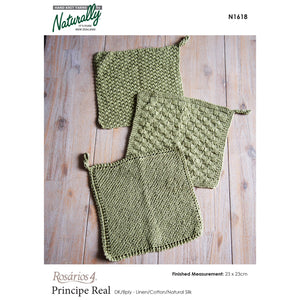 Looking for other products similar to this?
---
Product Information
Ever useful textured face cloths knitted in a cool blend of linen, cotton and natural silk DK / 8Ply yarn. The perfect quick project for beginners and for a gift. Three different versions to choose.
One size with approximate finished measurement: 23cm square.
Approx. yardage to make a single cloth: 1 x 50g ball (based on 120 metres per 50 gram hank or ball).
Needle size: 3.5mm or as needed to get a nice fabric.
Gauge: not crucial. Tight knitters might use 3.75mm needles.

Designed in Rosarios 4 Principe Real DK/8Ply (50% Linen, 36% Cotton and 14% Natural Silk) or suitable for any DK/ 8 Ply cotton yarn. 

Naturally Yarns Printed Leaflet pattern.