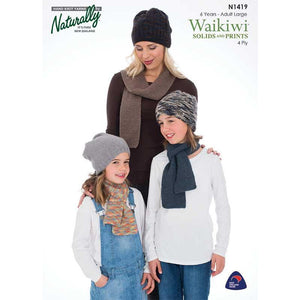 Looking for other products similar to this?
---
Product Information
Designed by Gitta Schrade in Naturally Waikiwi 4ply yarn. (55% Merino, 20% Nylon, 15% Alpaca and 10% Possum) but can also be made in any soft fingering 4ply weight wool yarn blend.
Five Sizes from 6 -8 years, 10 - 12 years, 14 years - Small adult, Medium and Large Adult. Basic and Slouchy Versions.
Made in New Zealand
Printed Leaflet only
N1419