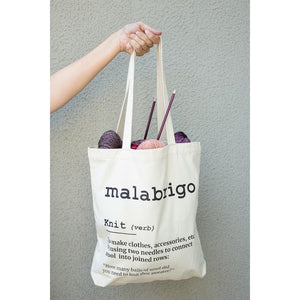 Looking for other products similar to this?
---
Product Information
We couldn't resist this branded handy size natural coloured cotton tote bag to carry your individual WIPs, PHDs or even those current "actually happening" projects.  Keeps the yarn clean and protected in friendly cotton which, unlike plastic bags, won't make your yarn sweat, felt or pill while you work on it.
Printed on one side only, with the word "Knit" and its definition.
Dimensions:  37cm wide x 40cm long  with 28cm handles
Machine washable, reuseable, and so good for the environment. Consider this when you want a small gift for a knitting, crochet or crafty friend.
Buy the bag and spread the word that Knitnstitch is your local and online yarn store for All the Malabrigo family of yarns.  We appreciate that!