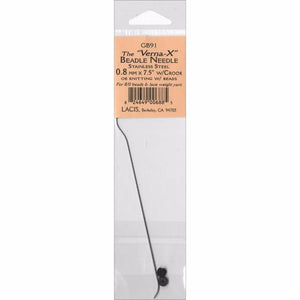 Looking for other products similar to this?
---
Product Information
The Verna-X makes beaded knitting that much easier.
One major advantage of the Verna-X is the longer needle lets you have lots of beads loaded on the needle ready for knitting.  It also comes with two stoppers to keep all the beads in place.
GB91 - 0.8mm x 7.5" with crook for size 8/0 beads
Laura Nelkin's tutorial on how to use these wonderful needles can be found here