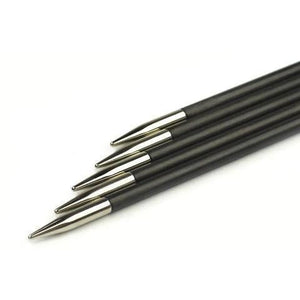 Looking for other products similar to this?
---
Product Information
KnitPro Karbonz are made from High-Tech carbon fiber with tips in electroplated brass.
Combination of two versatile materials – light bodied carbon fiber & sharp brass tips – is guaranteed to provide an unparalleled knitting experience. 
The needles have high tensile strength, are light weight with lot of flexibility. The surface is made of carbon fiber that helps the stitches move smoothly on the needle. The Karbonz is strong enough even in the tiny sizes which are hard to get.
Laser printed sizes on all needles.
5 needles per set.