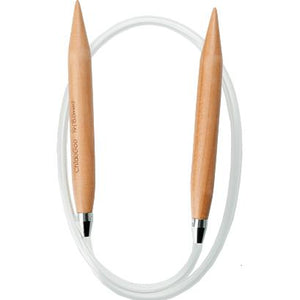 Looking for other products similar to this?
---
Product Information
ChiaoGoo offers a range of jumbo sized wooden fixed circular knitting needles for bulky and jumbo sized yarns.
These larger circulars are made of a lightweight wood joined by a clear, plastic, hollow tube. Needle size is permanently laser imprinted on each circular. Each tip is crimped for a secure connection.
Sizes range from 12.75mm, 15mm, 19mm and 25mm with cable lengths from 60cm, 80cm and 100cm.