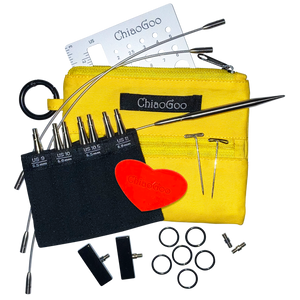 Looking for other products similar to this?
---
Product Information
This new Yellow [L] extension set of the ChiaoGoo Shorties range includes 8cm long tips sized from 5.5mm to 8mm and will complete your tool kit of Shorties Twist Red Lace Interchangeables.
This set is great for knitting sleeves in-the-round particulaly on those chunky weight sweater yarns that are so popular!
The Yellow set includes:

4 different sets of stainless steel lace tips in sizes 5.5mm, 6mm, 6.5mm and 8mm in 8cm (3") lengths
three Short

SWIV360 cables

in lengths of 15cm (x 2) & 20cm 

to make 30cm (12″) or 36cm (14″) long circulars.



end stoppers

connectors for cables

tightening keys
stitch markers
a swatch / needle gauge
heart shaped gripper
a tip sleeve that securely holds all 4 pairs of tips
a compact yellow nylon zippered case with pocket
The tips are stainless steel and the cable diameter is the same width as the current Chiaogoo Twist Red Lace Large [L] cables.  Individual [L] shorties tip pairs are also available for purchase in sizes 7mm and 7.5mm.
The Twist Red Lace "Shorties" interchangeable system (in either the Red, Blue and now Yellow sets) allows knitters to make short circulars from 23cm to 36cm (9"-14") long using a selection of either 5cm or 8cm tips - including differential circulars. Please note that the Yellow set does not offer 5cm long tips.