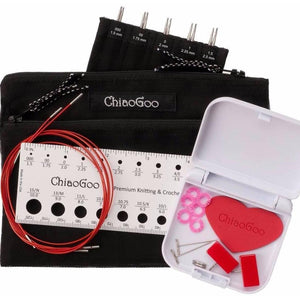 Looking for other products similar to this?
---
Product Information
ChiaoGoo's "Twist Mini" knitting needle set is the tiniest interchangeable needle set available!
Whether you're a sock knitter, a lace knitter, or just love itty-bitty needles, this is a wonderful set - and the cables have  'lifeline' holes which is so terrific!
The Twist Mini set features everything you love about ChiaoGoo's Steel Red Lace circular needles—lightweight and strong surgical-grade stainless steel, beautifully tapered sharp lace points, and memory free, flexible nylon-coated steel cables.The join between the needle tip and the cable utilize a twist mechanism (hence the name Twist) and are secured by a key.
These interchangeables also feature lifeline holes in the cables, so you will never have to unravel a piece over a mistake again.
Please note, the mini interchangeable parts and pieces are only compatible with the ChiaoGoo SHORTIES and SHORTIES COMBO packs but not the other [S] or [L] sized ChiaoGoo interchangeable parts and pieces.
Your Twist Mini Set includes:
5 pairs of 10cm or 13cm needle tips - metric sizes 1.50, 1.75, 2.00, 2.25, and 2.50mm
35cm cable (total needle length of 61cm)
56cm cable (total needle length of 81cm)
76cm cable (total needle length of 102cm)
2 cable connectors
2 end stoppers
6 Stitch Markers
Needle gauge/ruler
2 keys
Heart-shaped rubber gripper
Sleeve with labeled pockets to hold the needle tips
Compact 2 pocket case to keep everything secure
Size: 17cm x 13cm (6.5" by 5")
Bonus: the whole case fits inside the regular ChiaoGoo Interchangeable case.
Lifetime guarantee from manufacturer's defect, excluding normal "wear and tear".