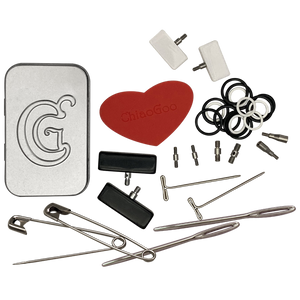 Looking for other products similar to this?
---
Product Information
All the indispensible bits and bobs - all in the one place!
The new [S] & [L] tools kit tin contains two [S] & [L] cable connectors, two [S] & [L] end stoppers, two tightening keys, two darning needles, 2 [L] to [S] adapters, 20 stitch markers, two safety pins and a heart-shaped rubber gripper.
To be used with the ChiaoGoo TWIST, SPIN, T-SPIN and SWIV360 Interchangeable system only.