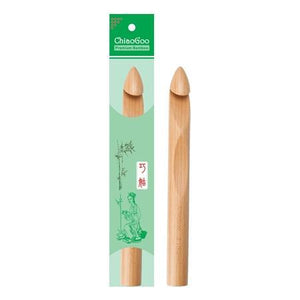 Looking for other products similar to this?
---
Product Information
These ChiaoGoo natural coloured, single pointed bamboo Afghan Hooks have precisely tapered, hand-crafted tips and are made of Moso bamboo.
They are used primarily for a type of crochet craft called Tunisian Crochet and has stitches including an afghan stitch. Wikipedia notes that...
Tunisian crochet or Afghan crochet is a type of crochet that uses an elongated hook, often with a stopper on the handle end, called an Afghan hook. It is sometimes considered to be a mixture of crocheting and knitting. ... Unlike traditional crochet, however, this new loop is not then pulled through the initial loop.
The size is permanently laser imprinted on each needle and cap.
ChiaoGoo Bamboo straight Afghan hooks come in 33cm lengths and are available in sizes from 2.25mm to 10mm.  Please note there are no 2.5mm, 3mm or 7mm sizes in the range. Please contact us if the size you want is temporarily out of stock.

For longer circular afghan / tunisian hooks (with a hook on each end of a cable) click here.