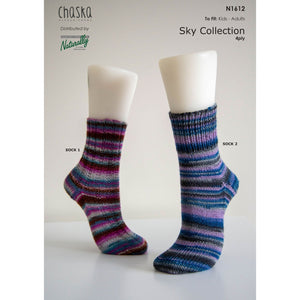 Looking for other products similar to this?
---
Product Information
Knitted in the round, this is a pattern for a Cuff down to the toes sock designed in a lovely variegated sock yarn range called Sky Collection. Click here for colours in stock.
Two options: Ribbed and Textured.
Sized for 6 different foot lengths.
Gauge: 28 sts x 36 rounds over 10cm swatch of stocking stitch on 3.25mm needles preferably washed and blocked for accuracy.
Yarn quantity: every size and style option requires just one 100g hank. 
Needles and Notions: set of 2.75mm and 3.25mm double pointed needles (unless Magic Loop technique or short circular needles are used). Stitch marker to mark BOR.
Colour Printed Leaftlet Only.