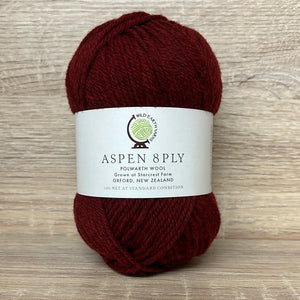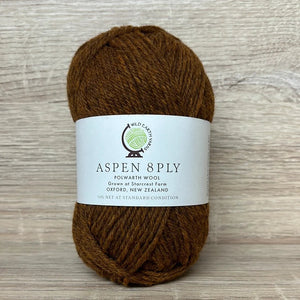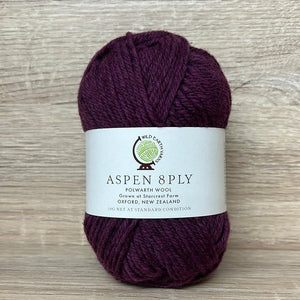 Looking for other products similar to this?
---
Product Information
Proudly Made in New Zealand, Aspen is a fantastic wool yarn made of Polwarth which is a great merino fibre - soft and slightly sheeny with less pilling and so more durable than comparable merino yarns. The naturally coloured Polwarth wool has been overdyed and Woollen spun to create a rustic, heathered yarn that is very soft and suitable for knitting colourwork.
Similar in structure to other well known brands, this worsted DK 8ply weight version will work as a very suitable substitute in many modern patterns and is plump enough to work for many 10ply patterns too.
Fibre content: 100% Fine Polwarth Wool (19 microns)
Weight: 8ply DK
Meterage: approx. 108 metres per 50 gram ball
Construction: Woollen Spun
Gauge / Tension: 22 sts x 30 rows per 10cm
Recommended needle size: 3.5mm
Care Instructions:  Gentle Hand Wash
The Aspen range of knitting yarn has 100% traceability from farm gate to finished yarn.  every stage of processing has been within the South Island of New Zealand.
The beautiful fine fleece was grown by Jack & Eleanor Patterson in Oxford, North Canterbury at Starcrest Farm.  It was then sent to Timaru for scouring (washing), onto Oamaru for dyeing before returning to Christchurch to be processed into yarn. That is a journey of only 519km.
Also available in an 4ply fingering weight.