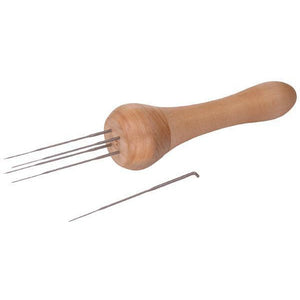 Looking for other products similar to this?
---
Product Information
Ashford Felting needle punch is a lovely tool for the craft of dry needle felting.
Needle felting is easy and quick with endless possibilities to create beautiful and unique flat and 3-D art forms. This form of dry felting just needs fibre and felting needles. 

Features:
New Zealand sustainably sourced Silver Beech hard wood, turned comfortable hollow handle
smooth lacquer finish
safely store 5 needles
high quality carbon steel needles
gauge medium 36
includes needle felting punch with 5 needles
Other related Ashford felting products can be viewed here.