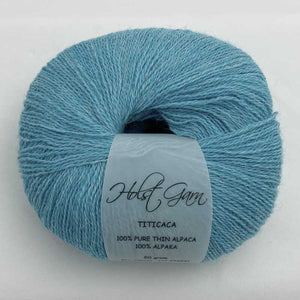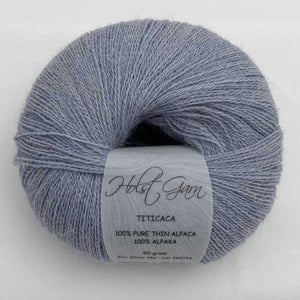 Looking for other products similar to this?
---
Product Information
Holst Garn Titicaca is a thin 2-ply 100% alpaca yarn by Holst Garn.

Titicaca can be knit alone in 1 or even double or more stranding 2 threads for fine soft shawls or light clothing. It is also perfect knitted together with the other Holst Garn yarn bases - Supersoft, Coast, Noble and Tides. The alpaca will add softness and a light fluffiness to your knitting.

Titicaca has approximately 400 metres of yarn per 50 gram ball.
Gauge suggestions
Knit with one thread at needles 2.5mm-3mm (Approx. 25 stitches = 10cm).

Knit with two threads at needles 3.5-4mm (Approx. 23 stitches = 10cm).

When you use Holst Garn Titicaca 100% alpaca with another yarn, 1 thread will add approx. ½ a size to your knitting needles. If you usually knit for instance Coast at needles 3mm - Coast and Titicaca knit together will fit a size 3.5mm.
Care: Hand wash, Iron (cool), Do not tumble dry.
More colours will be available upon request.