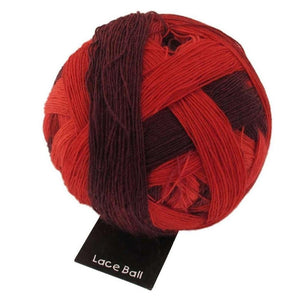 Looking for other products similar to this?
---
Product Information
High quality German lace weight yarn.  Schoppel Wolle Laceball is a wonderfully coloured yarn with long colour repeats that fade into each other and will make beautiful shawls, wraps and ponchos. Soft and Delicate but with the strength of nylon. 
Fibre: 75% Wool 25% Nylon
Weight: Lace, 2 Ply
Gauge:  28 sts x 28 rows per 10cm swatch
Needles: 4mm - 5mm
800 metres per 100 grams ball
Care: Machine wash, dry flat.
Art. 1208