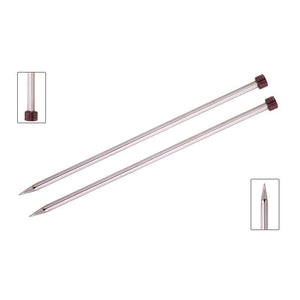 Looking for other products similar to this?
---
Product Information
KnitPro Nova Cubics single pointed 30cm long needles in metal are a further innovation for knitters with arthritis or suffer from fatigued hands. They allow a fast knitting action with the slippery metal surface while still being comfortable to grip.
Features:
Engineered from electroplated hollow brass pipes, its shiny polished surface is a knitter's delight
Sharp and gradually tapered points are ideal for all knitting projects
Nova needles yield precise stitch definition
Light weight ensures comfort in the hand and hours of stress free, satisfying knitting
Durability of brass metal guarantees minimal wear and maximum life
Exceptionally smooth surface enables the stitches to move quickly and with no resistance
A streamlined manufacturing process makes Nova needles highly affordable.