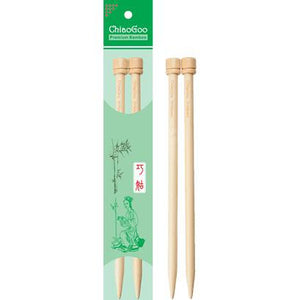 Looking for other products similar to this?
---
Product Information
These natural coloured, single pointed bamboo needles have precisely tapered, hand-crafted tips and are made of Moso bamboo.
The size is permanently laser imprinted on each needle and cap.
The ChiaoGoo Bamboo straight needles come in two lengths - 23cm (9") and 30cm (12″) - and are available in sizes from 2.25mm to 12.75mm.  
Please note there are no 2mm, 2.5mm, 3mm, 7mm or 7.5mm sizes in the range and no 12.75mm in the 23cm length