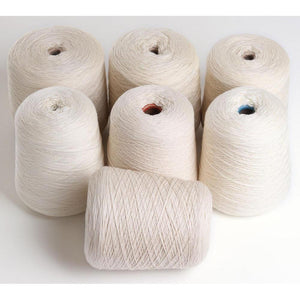 Looking for other products similar to this?
---
Product Information
Ready to dye. Ashford's 4ply fingering (non superwash) natural white, undyed Merino wool yarn bases are ready for you to create your own unique colourways and comes in a 1 kg cone approx. length is 4000 metres / 4400 yards.
These yarns have not been bulked – the process that happens when yarns are dyed or steamed - so they appear thinner. Once you have dyed or washed the yarns they will bulk up to their full condition.

For all Indie Dyers, Weavers and Machine Knitters.  So handy when you want the convenience of lots of yarn without the bulk of many individual balls. Skein into hanks if required and dye with the Ashford Wool Dyes. Perfect for knitting, weaving and crocheting.

Price is for 1 cone.
Fibre and weight: 4ply fingering unbulked 100% pure New Zealand Merino wool
Yardage: 4000 m per 1kg Cone net at standard condition.
Needles: 2.75mm - 3.25 mm or as pattern recommends
Tension: 10 x 10cm = 26 - 28 sts x 36 rows. If knitting with the unbulked yarns be sure to do a gauge swatch and wash/steam.
Care:  HANDWASH