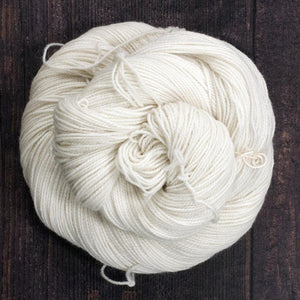 Looking for other products similar to this?
---
Product Information
Quality undyed yarns - unskeined and all ready for dyers. Natural luxury, softness and strength for knitting, crochet, weaving and other textile crafts.
A fine merino wool yarn suitable for everyday garments or accessories as it is or if you want to dye these up for your special project?  See our full range of Ashford Dyes here.
Fibre content: Non Superwash 4ply Non Superwash 100%  Merino Wool
Texture: 2-plied construction (making it a 4ply fingering weight)
Meterage 400m per 100g hanks (flat, not yet skeined)
Fineness: 2/8nm  20.5 Micron 
Typical Gauge: 28 stitches per 10cm swatch using a 3.25mm - 3.5mm knitting needle
Care: Hand wash only as this has not been superwash treated. Machine washing may felt or shrink it.
Type 49180